Playfinder in the Community
Playfinder is a passionate supporter of grassroots given the vital role physical activity plays in all walks of life. The company vision is getting as many people as possible in the UK more active using its search and facility booking platform.


---
Fit and Fed Reclaiming the Summer
---
Playfinder has teamed up with StreetGames' Fit and Fed project as a proud supporter of the summer activities programme. Playfinder has helped secure discounted booking fees for projects using its unrivalled knowledge and network in the recreational sports space.
In addition to helping secure booking slots, Playfinder was on the ground at Brent's Ark Elvin Academy and Bridge Park Leisure Centre. The summer project is being run by Teth and Yes (Youth Engagement Solutions).
Albert, Carmen and the Yes team are laying on numerous activities in the Brent area which include martial arts, football, t-shirt printing, basketball, fun games and of course lunch. Here are some pictures from the project:
This fantastic initiative is a response to demand from the existing StreetGames' network and a growing body of research on the triple inequalities of holiday hunger, isolation, and inactivity.
In developing the programme StreetGames has used its decade of experience leading this sector to activate children in poor neighbourhoods, and engaged with government, the devolved administrations, academics, retailers, corporate companies, food charities, the Church of England, and community food providers.
---
Playfinder's Grassroots Fund
---
Access to facilities is one area that Playfinder is working tirelessly to provide a solution for, but there are other issues facing the grassroots community. With that in mind, Playfinder has kicked off its Corporate Social Responsibility mission with a £10k donation to Devon's Honiton Community College.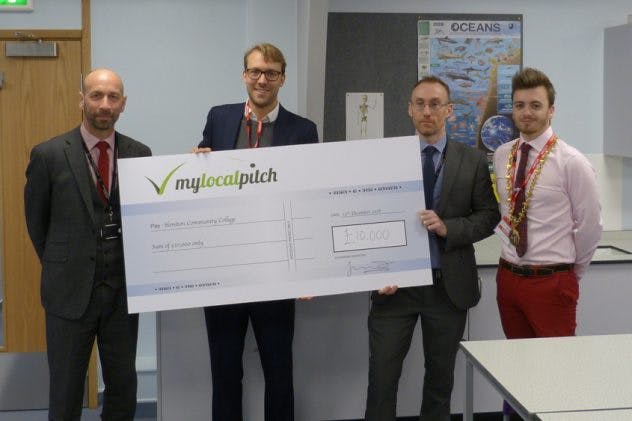 This donation is being used by Honiton Community College to upgrade a wide range of sports facilities, including those for table tennis, badminton, football and rugby. Playfinder's platform technology has an excellent track record of increasing sports participation levels and is now giving back to local causes. One of the key areas is providing better facilities for children to keep active at schools and during holidays.


Thank you Jamie and all at @Playfinder. Will make such a difference to our students and the community of Honiton. https://t.co/ThlvmE2vsW

— Matt Burrell (@HCCMBurrell) December 12, 2018
---
Outstanding Sports Facility Award
---
Playfinder has already been recognising the tremendous work grassroots venues and managers do in the sector with its monthly Outstanding Sports Facility Award. These are voted for by the Playfinder community and winners are judged on pitch quality, amenity quality and customer service. As an extension to the monthly accolade, there is a yearly trophy award for the best manager and facility.



You can find out more about the award initiative here.

In the New Year, Playfinder will be working even more closely with local grassroots charities, organisations and schools.
---
Let Playfinder help you
---
At Playfinder we're always looking to work with local community groups and charities to provide pitches and courts for fundraising events. If you're running an event, we'll help you…
Find and book your venue
If you represent a community group or charity, we work with a number of sports facilities throughout London, Manchester and Dublin perfect for your upcoming event!
Just contact our Bookings team and let them know what you need and we'll find you the ideal venue to make your day special.
Have a venue in mind? Submit an enquiry through our website.
Promote your event
Our dedicated Marketing team are also on hand to promote your event, creating posters and assets for social media. We can even design and commission banners for the event.
---
Previous events we've been a part of
---
Lidl x NSPCC charity 11-a-side football match

Location: Erith Leisure Centre
September 2017
ukactive x Playfinder 5-a-side football match for National Fitness Day

Location: Three Corners Adventure Playground
October 2017
Movember charity 5-a-side football match

Location: Haverstock School
November 2017
---