Grassroots Sport Health Manchester
Humans of Grassroots Sport | Pete Carruthers
6 December 2018 • By - Will Chrimes
Read time 2 minutes
Moving Forces founder, Pete Carruthers, chatted to us about how sport helps armed forces personnel to stay active during and after transition to civilian life.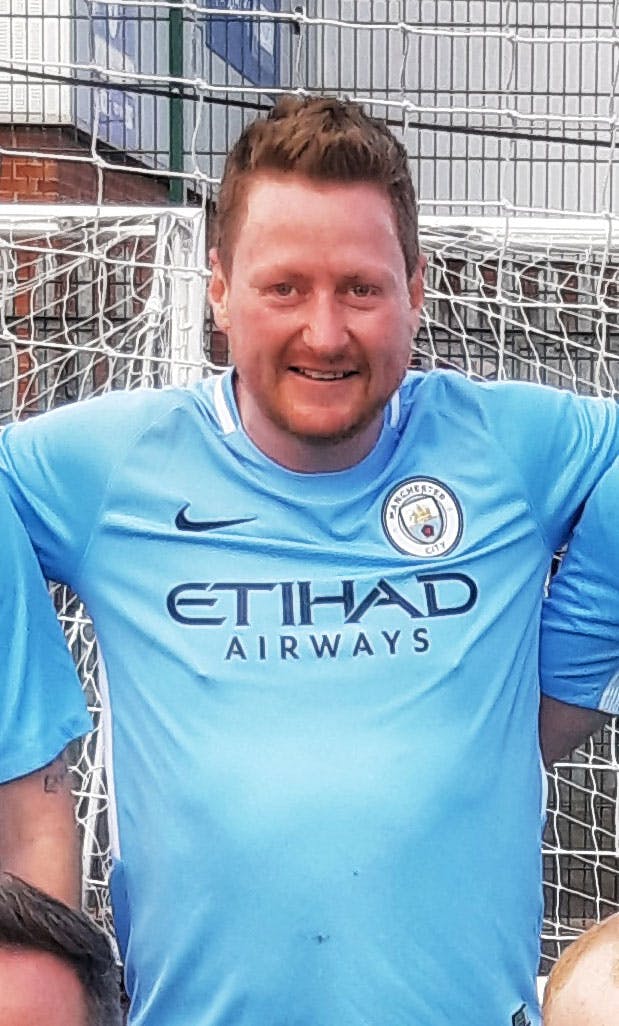 Sport and physical activity is an extremely powerful tool in bringing people together and that is why it is the foundation of our newly launched Sport England funded project, 'Moving Forces: Staying Active in Civvy Street'.
It's a Greater Manchester based project, delivered in partnership between GreaterSport and Tameside Armed Service Community (TASC) and aims to help armed forces personnel to stay active during and after transition to civilian life.
Moving Forces kicked off in September this year as a pilot in Tameside and will scale up to eventually cover the whole of Greater Manchester by June 2020. My own association with the military came from seven years in the RAF from the age of 18 as an aircraft avionics technician. I left the forces in 2003 before working as an engineer for a time and then I completely changed tack by training to be an actor.
From there I got into writing and producing short films, with a particular focus on issues surrounding mental health. My first short film, 'Fallout', was picked up by the NHS and several Armed Forces charities to be used as a training aid and has since been used throughout the UK, USA, Canada, Netherlands and Uganda to train mental health professionals and volunteers about the reality of living with PTSD.
It also won the award for 'Best Short Film' at the GI Film Festival in Washington DC and was commended by Sir Patrick Stewart in his role as patron of Combat Stress. Commissions from the NHS to make further films followed, which covered several issues faced by many armed forces veterans, such as trauma related mental health issues and problems linked to transition from military to civilian life.
Making films and working with the NHS and service charities showed me just how rewarding it is to work in this sector. Working as a freelance filmmaker only gave me the opportunity to work in this sector sporadically and I wanted to look for a more permanent way to help, where my experience and passion could make a real lasting impact.

Moving Forces provided the perfect platform to make a difference. There was plenty of scope to flex my creative muscles as it hadn't been done before and we had a blank canvas to build on.
Sport and physical activity is at the core of the project for a variety of reasons. There are the obvious benefits in terms of keeping fit and healthy, but it does much more than that. It can also help to reduce social isolation, mental health issues and alcohol addiction. Most importantly though, sport has the unique ability to break down divides and bring people together.
Some of the activities on offer include football, walking, rugby, wheelchair basketball, swimming, crown green bowls and many others. Veterans (as well as serving personnel) are encouraged to get in touch if there is something they want to do that is not currently included.
Moving Forces isn't about helping the minority of veterans who are sometimes labelled 'mad, sad and broken' – it's a positive movement encouraging people to join in and be part of a community.

Prevention is a key factor for the initiative. There are plenty of misconceptions regarding mental health issues and the armed forces, as the vast majority of service people make the transition to civilian life without a hitch. We want to celebrate the amazing contribution veterans make while acknowledging that there can sometimes be difficulties.
Moving Forces gives veterans the support network they need through a holistic approach, rather than waiting for people to fall ill. In due course we'll be training peer-support volunteers to look for signs of people who might need extra support.
We're already partnered with the major service charities such as the Royal British Legion, Combat Stress, Walking With the Wounded, Blesma and many others. Ultimately our partnership works both ways as we are able to signpost our members to the charities which could help them and the charities can recommend the Moving Forces initiative to their clients. It's about working together to deliver the best support.

The project is the first of its kind and therefore we will learn a huge amount over the next few years. To maximise this learning, Moving Forces is working alongside Manchester Metropolitan University, providing funding and support for a PhD student who will provide regular insight into the successes of the project as well as highlighting areas to improve.
The student will eventually publish her full PhD thesis on the impact and learning gathered over the duration of the three year project. The aim is to use this learning to make the project as successful as possible as well as helping to shape future projects elsewhere in the UK and abroad.
To find out more – visit https://www.greatersport.co.uk/moving-forces/moving-forces-activities