Football Grassroots Sport London
Make it your Womens World Cup Match Day
6 June 2019 • By - Will Chrimes
Read time 1 minute
We are now just one day away from France taking on South Korea in Paris to kick off the Women's World Cup in France.

England begin the tournament against Scotland this Sunday and despite a narrow 1-0 defeat to New Zealand, the Three Lionesses will head across the channel to France in fine spirits.
For the next month the nation will be gripped by World Cup fever and to celebrate the tournament kicking-off we've created an infographic to help you enjoy the Ultimate Match Day.
Each of these fantastic football venues are showing World Cup games throughout the tournament to help you create the ultimate World Cup experience.

Phil Neville's Three Lionesses are fourth favourites to lift the trophy at the Stade de Lyon on the 7th July. England finished third and picked up a bronze medal four years ago in a tournament that saw a 230% increase in women enquiring about football pitches on Playfinder.
What better way to catch a game on TV than having had a go yourself with friends or colleagues moments before? One of our social media polls revealed that 61% of you would rather play than watch a game on TV.
Check out which of London's top football facilities are showing games and book a match with friends today!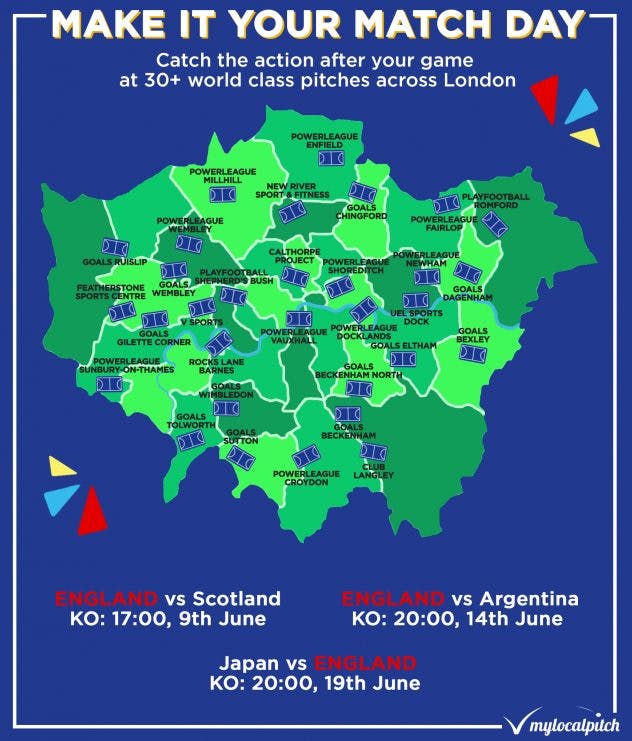 Image credit
Feature image: joshjdss [CC BY 2.0 (https://creativecommons.org/licenses/by/2.0)]