Grassroots Sport Netball Things to do
Netball Surface Guide | Macadam, Polymeric and Timber
24 June 2019 • By - Harry Thompson
With the Netball World Cup just a matter of weeks away, excitement is building. A generation was inspired following England's dramatic last-second winner against Australia, which claimed Commonwealth Gold in 2018. Over 130,000 people have taken up netball since the enthralling win. So whether you're a regular, looking to get back into the sport, or simply want to get out on the court for the first time, this is the netball surface guide for you.
Macadam (Tarmac)
A popular choice of surface for outdoor netball courts is macadam. What is macadam exactly? It is the hard tarmac surface many of us will remember from school playgrounds up and down the country. There are two types of macadam surfacing, Type 1 and Type 2. The former is traditionally used for sports such as tennis and basketball. Type 2 surfaces (all-weather courts) are required for netball as they meet the higher slip-resistance standards needed to play the sport.
When surfaced, different colour markings are applied to the tarmac to outline the court, which is particularly important if the space is being used as a multi-use game area (MUGA). The line markings are also applied using anti-slip resistant paint to enhance safety, because the UK weather never can be trusted right? In any case, the macadam surfaces are porous, allowing water to be drained, making it suitable to play all-year round outdoors. So there's no excuse not to get yourself on the court.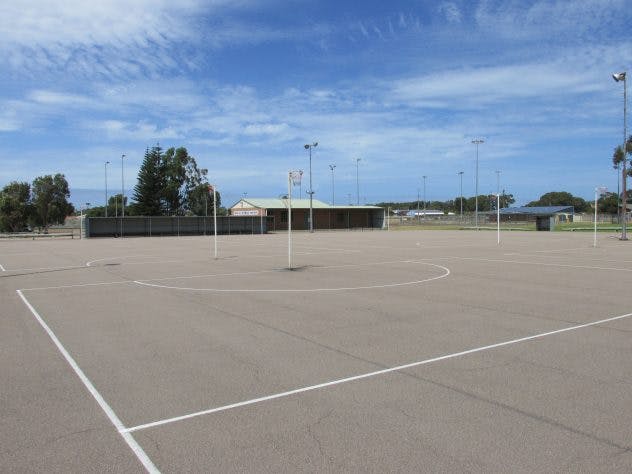 Image credit: "Esperance Sportsplex" by Orderinchaos
Polymeric (Rubber)
Another regularly used surface – for either indoor or outdoor netball – is polymeric. Effectively, it is a rubber surface, similar to the traditional tartan running tracks associated with athletics. Small EPDM rubber granules are mixed in a binder, then laid onto a macadam sub-base, which offers structural support. It is then levelled out to leave a smooth finish and left to set.
Similarly to macadam, the line markings are painted using anti-slip paint. However, the whole court is then sprayed with polyurethane non-slip paint which offers players maximum grip, even in adverse conditions. The polymeric surface is also permeable, allowing water to drain through and prevent any potential flooding. The main difference to macadam is that the polymeric surface offers slightly more comfort underfoot due to the shockpad in it's core. Both styles are perfectly suited to netball though, due to the slip resistance and great ball bounce on offer.
Image credit: "Berrigan court" by Mattinbgn
Timber (Wooden)
From time to time, no outdoor surface can withstand some of the UK's inclement weather. Fortunately, Playfinder offers a whole host of indoor netball courts to keep you active throughout the cold and dark winter months. Polymeric (as we've seen) and timber are the traditional materials used for indoor surfaces in sports facilities across the nation. Timber is a great durable surface, but it is not naturally water-resistant, hence why it is used indoors.
To maintain durability, a damp-proof membrane (DPM) is used to protect the floor from the sub-base. A urethane sealant is then used to protect the top surface, which often gives the court a shiny lacquered appearance associated with sports halls. In general, indoor courts offer slightly more favourable playing conditions given the lack of wind and controlled temperature. A well maintained court should offer perfect bounce too. So if you're not willing to brave the elements, grab your friends, check out the venues we offer and book a netball court today.
Image Credit: "Indoor Sports Hall" by Wikipedia
All netball courts should be monitored every few years to check for slip resistance, ball rebound and shock absorption, so the highest standards can be maintained.
Has this surface guide given you an urge to get on the court? Find and book a netball court near you at Playfinder.
Featured Image: "Rebecca Bulley" by Naparazzi