#PitchPerfect | Serena Williams
19 November 2018 • By - charntewilliams
She is the only Tennis player, male or female, to win 10+ grand slam singles titles in two separate decades. She's also the highest earning female athlete of all-time! Want to know the ins and outs of Serena Williams? Read on for our weekly #PitchPerfect profiles, where we break down the highs and lows of the most talented sportsmen and women of all time…
---
Serena started training at four years old
---
A tennis player himself, her dad envisioned both Serena and Venus Williams becoming superstars within the tennis world.
Born in 1981, both her and her sister, Venus Williams, began an intensive training routine with the help of their dad Richard Williams from an early age.
It was her dad that instilled in her an entrepreneurial mindset, making her and Venus listen to business tapes on the way to training. It must have worked too, because Serena has her own self-titled clothing line. And, as of 2017, she's also on the board of consumers at SurveyMonkey!
---
Early achievements
---
Richard's training must have been amazing, because Serena quickly became a notable figure in Tennis as a child.
She was ranked number one among under-10 players in Florida as a child.
She was only 21 when she was first named world No. 1 in singles by the Women's Tennis Association (WTA) in 2002.
Serena won her first U.S Open at 17, and completed the career grand slam just three years later, in 2003, pulling off what quickly became known as the "Serena Slam" by claiming four straight Grand Slam titles (the French Open, Wimbledon and U.S. Open in 2002 and the Australian Open in 2003).
---
Serena uses a "high risk" style of play
---
Like any incredible sportswoman, Serena has her own style of confident performance and tailored techniques.
She's primarily a baseline player, and her game is built around taking control of rallies with a powerful and forceful ground-strokes from both her forehand and backhand swings.
It's because of this aggressive play that most consider her serve to be the best in history.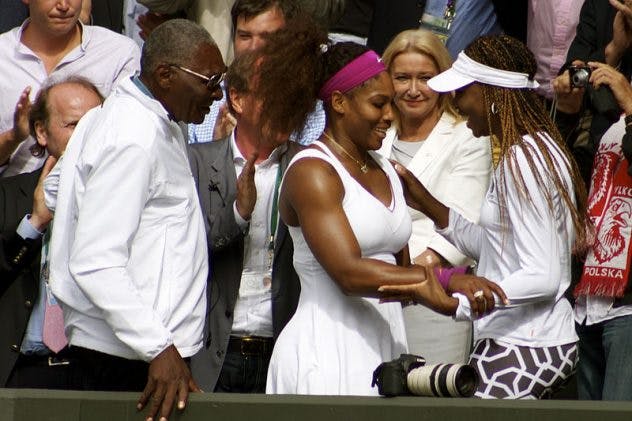 "Serena Williams embraces Venus Williams as Father looks on" by wikimediacommons is licensed under Creative Commons Attribution-Share Alike 4.0 International license.
---
World domination
---
Because of her drive and determination, Serena has broken barriers and established herself as a living legacy. Some of her achievements include:
Being a 7-time Wimbledon singles champion (2002, 2003, 2009, 2010, 2012, 2015, 2016)
She's been named Sports Illustrated "Best Female Athlete of the Decade" in 2009.
Serena also has a social legacy; becoming the second African-American woman to win a Grand Slam title by winning the 1999 US Open.
She's successfully become a 3-time Olympics doubles gold medalist (2000, 2008, 2012)
---
Facing trials, tribulations and criticism
---
Even with everything she's achieved, Serena has had her fair share of criticism. From early prejudice, to sexism and court disagreements, it's fair to say that she's overcome a lot more than her counterparts.
She's faced harsh clothing bans. She was even banned from wearing the 'catsuit' (a black Adidas top and leggings), from the 2018 French Open.The ban drew considerable backlash since Serena had almost died from giving birth, and the leggings were a way to prevent blood clots and to keep her blood circulating.
She caused controversy at this year's US Open final, with her loss to Japan's Naomi Osaka resulting in Serena to suggest umpire Carlos Ramos was being sexist. Ramos also faced public backlash by tennis legend Billie Jean King, who thanked Serena for calling out double-standards.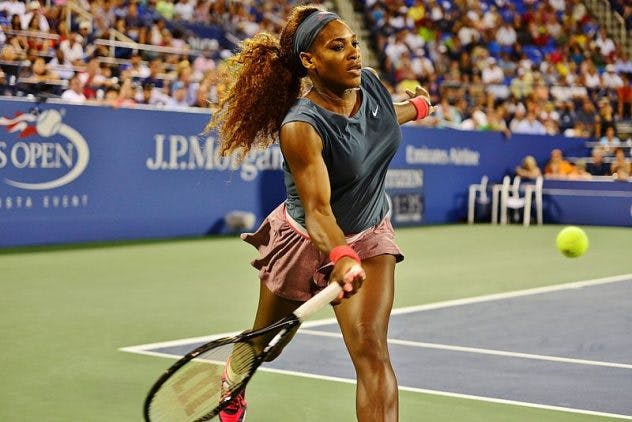 "Serena Williams cropped" by Edwin Martinez is licensed under CC by 2.0
---
Serena on…
---
…on losing:
"I don't like to lose — at anything… Yet I've grown most not from victories, but setbacks. If winning is God's reward, then losing is how he teaches us."
…on fear:
"I am lucky that whatever fear I have inside me, my desire to win is always stronger"
–
Click here to see our Tennis venues and find your play today! What do you think of Serena, a living legend and inspiration for young women in sports? Let us know by tweeting us or on Facebook @Playfinder
Image Credit:
Featured Image: "Serena Williams cropped" by Edwin Martinez is licensed under CC by 2.0