Top 5: Quirky Sports Venues in London
5 August 2019 • By - Harry Thompson
Are you looking for a change of scenery for a one-off game? If you are looking for something a little bit different to your average runabout, Playfinder offers you a guide on the top 5 quirky sports venues in London – ranging from rooftop football pitches to beach volleyball courts.
Marlborough Sports Garden – London Bridge
Marlborough Sports Garden is certainly not your everyday sports centre. The venue is tucked away situated just off the bustling Borough High Street and is overlooked by one of Europe's tallest buildings – The Shard. Furthermore, the famous Borough Market is just around the corner, along with a plethora of other eateries to satisfy any post-match hunger!
The venue itself contains an outdoor beach volleyball court, one of just a handful that can be found in central London. So if you want to bring the beach to you for a game of volleyball, play netball on the macadam surface or even play 5-a-side football on a 3G astroturf pitch, then Marlborough Sports Garden is a place you need to check out. The venue is also fully floodlit so caters for a post-work workout – being open until 21:00 – with Borough tube station just minutes away.
If you would like to book this facility, click here.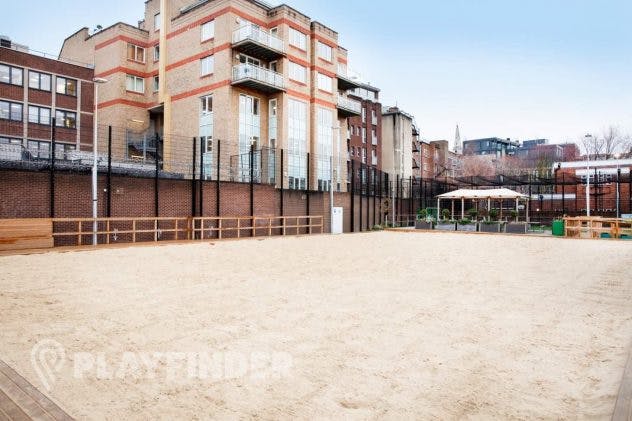 Chelsea Sports Centre – Chelsea
Staying with the beautiful scenery takes us to the Chelsea Sports Centre in Kensington, located just a couple of minutes walk from the iconic King's Road. The football pitches are situated directly next to St. Luke's Church which provides a stunning backdrop for you and your mates. Definitely not your average location for a kick-about!
The 5-a-side 3G astroturf pitches are kept in immaculate condition all-year round, with the facility also being floodlit allowing for a late night game – the venue closes at 10pm on weekdays. Post-match, there is no shortage of restaurants, pubs and other entertainment to indulge in local area. South Kensington tube station is located just a 10 minute walk away, so get yourself down to the Chelsea Sports Centre and check out the stunning venue.
If you would like to book this facility, click here.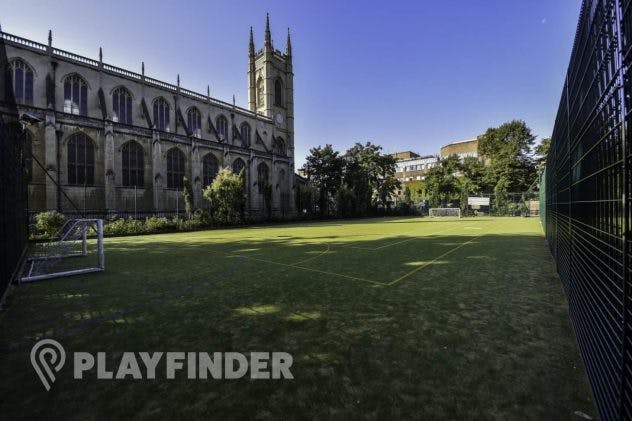 Calthorpe Project Sports Facilities – King's Cross
'An Inner City Oasis' – a fitting term used by the Calthorpe Project Charity to describe this quirky pitch. The football venue, similar to the likes of those in video game FIFA Street, is covered in wall art giving a real urban city feel to your game. The 5-a-side 3G astroturf pitch is well maintained all-year round and caters for a game 'under the lights', with the venue being fully floodlit until it's close at 21:30 on weekdays.
Calthorpe is situated just a 10 minute walk from the iconic King's Cross Station, which is the perfect warm up/down for a run-about! As with so many of our London venues, you're never far away from some nice restaurants and pubs which cater for some downtime. So if you're looking for a different footy venue, this is the place for you.
If you would like to book this facility, click here.

Powerleague Nine Elms – Battersea
If you're looking for something a little more scenic than the kick-about down the park with your mates, Powerleague Nine Elms offers stunning rooftop views from three of it's outdoor pitches. Situated in Battersea – minutes from the glorious Battersea Park – users that book the venue will be treated to views of the London skyline, including the famous power station located nearby. What more could you ask for?
Both 5-a-side and 7-a-side 3G astroturf pitches can be booked at Nine Elms, catering for smaller and larger groups. The venue, being open until 22:30 is fully floodlit throughout the dark winter months which will keep you active well into the evening! Battersea Park train station is just a 10 minute stroll away, so if you fancy a game with a view, check out this superb Powerleague venue.
If you would like to book this facility, click here.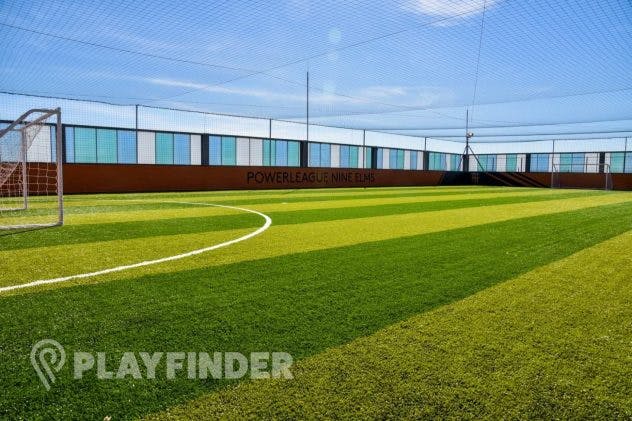 Powerleague Shoreditch – Shoreditch High Street
From the rooftop pitches in Battersea to the urban pitches in Shoreditch, Playfinder offers it all. Powerleague Shoreditch is situated in the quirky and fashionable area of Hoxton, with the venue directly underneath a railway line leading into Shoreditch High Street station – a matter of seconds from the venue. How's that for convenience?
Both 5-a-side and 7-a-side pitches are available for hire, with the pitches kept in superb condition for your game. The venue opens at 09:00 and remains busy late into the evening (22:30), allowing busy Londoners the opportunity to fit in some exercise throughout the day. Just a couple of minutes walk from facility is the Shoreditch Boxpark, with a whole host of different restaurants and opportunities for a drink. Hoxton is always a lively area, so get yourself down to this venue for the full experience!
If you would like to book the facility, click here.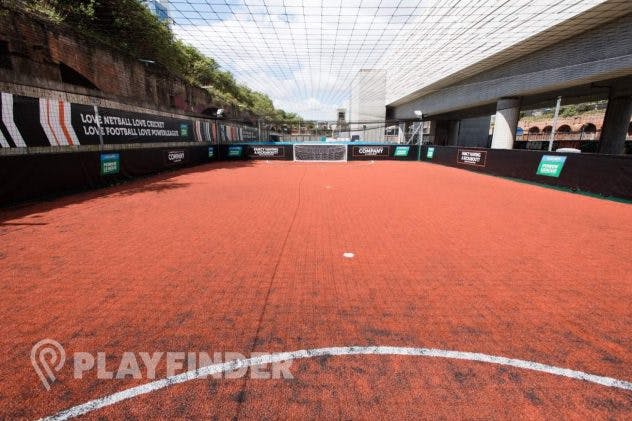 If none of these venues take your fancy, check out the range of other facilities offered at Playfinder here.