Cricket venues open for the summer
11 July 2020 • By - callumbrunning
The start of the cricket season should have been well underway now. Summer cricket now in full swing after the return of test match cricket in England.
While the test match against the West Indies has been welcomed by the country's cricket community, nothing can replicate the feeling of stepping out onto the field. Finally, after a long wait for the cricketers among us, we will be able to get on the field and score some runs!
After this week's government announcements, up to 30 people will now be allowed to participate in a game of cricket together. This easing of the lockdown restrictions is one of the most significant milestones so far with regards to sport. It provides a positive indicator for sport returning through the summer months. This weekend will mark the return of cricket and for many clubs across the country, it will mark the beginning of the 2020 season.
A new look for the sport
In response to the government's decision to bring cricket back to our fields, the England and Wales Cricket Board (ECB) have outlined rigorous guidelines for participants to follow before, during and after playing cricket. Participants must only use their own equipment during play and must clean their bat after leaving the field of play. Players must stay 1m+ away from one another at all times which means there will be gaps in the slip cordon. Lucky for some batsmen!
The ball itself must be cleaned at all breaks in play and every 6 overs. No sweat or saliva is to be applied to the ball at any point during play. Aside from these measures during play, there must be a record kept of all in attendance. Also any clubhouse room facilities must be used in accordance with government guidelines. A detailed look at the ECB's guidelines for the return of cricket can be found below.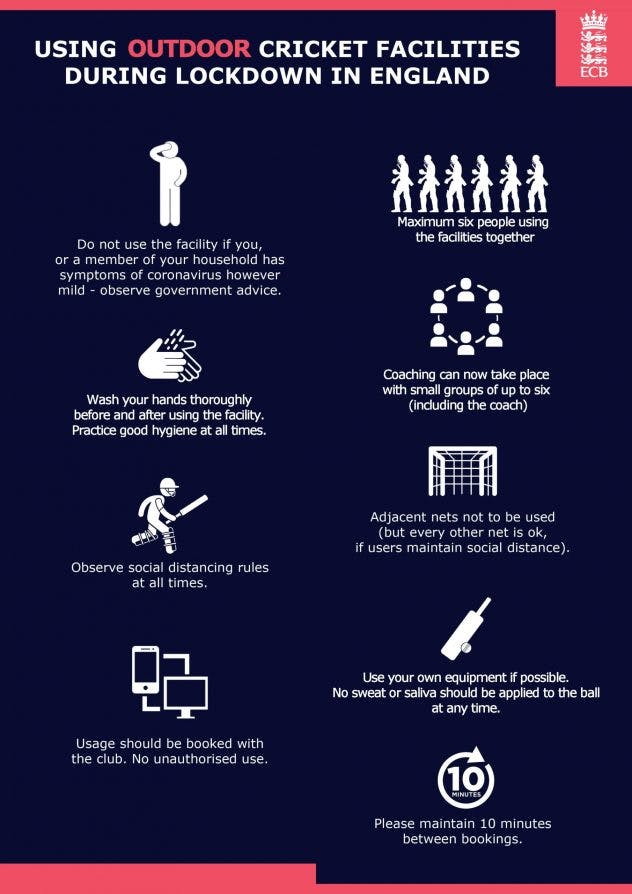 Credit: ECB
Where to play cricket near me?
So, a few more things to think about while trying to take an early wicket this weekend. Some of us cricketers may not have arranged matches as of yet but are looking to get some practice in the nets before their competitive season begins.
To make the transition back into the game as easy as possible, Playfinder has listed below available venues you can hire cricket nets and cricket pitches this weekend!
To kick things off, Parmiters Sports Ground-based in Walthamstow is a great place to get some cricket practise in for those based in East London. The venue is situated a short walk away from Highams Park Overground station and offers a great surface to practice that front-foot cover drive! The venue is open from 9am-10pm and free parking is available on nearby streets.
Jubilee Sports Ground is another great place to practise your batting or bowling technique so you're ready for the new season or your next match. The ground is also based in East London and is easily accessible by public transport with parking available on site. The venue is open from 9am-8pm during the summer and the ground has been kept to a high-standard during the lockdown.
Another great place for a game of cricket is Britannia Playing Fields based in London. This venue offers a perfect space for a competitive or casual game of cricket. This particular ground is available on a pay as you play basis and equipment may be available to hire with prior notification. Available to book from 9am-8pm, the ground is a short walk away from Highams Park overground station and offers parking on site.
Low Hall Sports Ground is another great option for cricket enthusiasts based in London. Just a short walk from Lea Bridge station, this venue is available to hire out from 2:30pm-10:30pm on weekdays and 9:30am-10:30pm on weekends. The venue offers to option to make block bookings and is a great way to guarantee a weekly game and socialise with your friends. It also takes the hassle out of paying before each game and collecting money from teammates as there is a one-time payment.
Finally, Leyton Sports Ground is another fantastic option for cricketers based in North East London. The venue offers a high-quality well-maintained pitch and great changing room facilities. Situated just a short away from Leyton Midland Road Overground station, the ground is available to hire on a pay as you play basis.
As more and more cricket facilities open, Playfinder will update this list in the coming days. Be sure to check back to find more cricket nets and pitches available to hire near you.
For extra information on the ECB's guidelines for the return to cricket click here.