Fun Fitness Health Things to do
10 ways to get more active on National Fitness Day 2021
22 September 2021 • By - Nathan Alder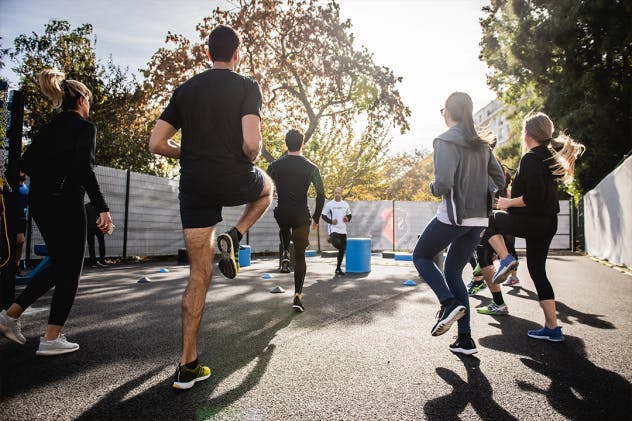 In honour of National Fitness Day marking its 10th anniversary this year, and with just 27% of UK adults saying they're as physically fit as they would like following the pandemic, we thought we'd share our top ten tips for getting more active, fit and healthy.
Getting more physically active is easier than you might think. It doesn't have to be all 6am gym sessions and ultra-marathons, you know? There's plenty of ways you can make getting active part of your daily routine.
Let's take a look at how.
1. Go for a walk
Why overcomplicate it? Whether it's nipping to the shops, a stroll around your local park with the dog, or just to the top of the road and back, walking is free, simple and one of the easiest ways to start working physical activity into your everyday life.
2. Couch to 5K
Think running is more your bag, but not sure if you're up to the challenge? Couch to 5K is a fantastic free app from the NHS that aims to get you up and moving with the help of a few famous friends.
In just 9-weeks the programme will guide you from a few brisk walks a week to being able to run a full 5K without stopping. Give it a go, here.
3. Workout videos
The gym can be daunting for lots of people. Thankfully now, you can bring the gym to you. All you need is a comfortable surface and a half decent WIFI connection. YouTube is the place to go for short, quality workout videos that you can easily fit around your everyday routine to suit you. With everything from beginners' yoga to high-intensity cardio workouts, there's something for everyone, whatever your fitness levels.
Why not give this a go later?
4. Cycle to work
Cycling to work might not be possible for everyone, but with so many employers now offering 'Cycle to Work' schemes to help subsidise the start-up costs, hopping on your bike is a fantastic way to turn your commute into a pre-office workout. It's also cheaper and environmentally friendly, so you'll be doing your wallet and the planet a favour in the process.
If you can't cycle, then why not hop off the tube or the bus a few stops earlier and wander the last mile into work? It's little changes like this that will ultimately add up to you becoming more active throughout your week.
5. Try a new sport
Whether you consider yourself "sporty" or not, there's so many fantastic clubs and venues up and down the country, full of friendly and supportive people, ready to introduce you to a new sport.
So, if you want to join a local netball team, have been inspired by Emma Raducanu's tennis exploits or fancy yourself as a bit of a cricketer, now's the time to take the plunge and give it a go.
Don't know what you're looking for? Check out Playfinder to find the best places to play everything from rugby to table tennis.
6. Get some mates together for a kick about
Whether it's jumpers for goalposts down the park or one of the hundreds of 3G pitches available for 5-a-side up and down the country, organising a kick about with your mates is easy. Just drop a note in your WhatsApp group, grab a ball and get going.
Fancy a game this week? Why not book a local pitch on Playfinder?
7. Partner up
Often exercising and keeping active is easier when you bring someone else along for the ride. So, start sweet talking (and potentially bribing) your friends, family members or work colleagues until you've found yourself a willing victim…. sorry, partner.
Once you're set with a workout partner, you're free to explore a whole range of sports and activities that you can work into your week. Whether that's booking a few fitness classes before work, or meeting for a weekly squash game, there's plenty of two person sports that'll get you up and moving.
8. Go for a swim
For all you water babies out there, a dip in the pool is another great way to keep active. There's plenty of local leisure centres and pools offering affordable access to swimming facilities throughout the day, so you can easily find a time and place to work into your week. Swimming also makes for a fantastic family activity, so if you've got young children that makes finding ways to keep active that bit more challenging, it could be the answer.
9. Get more active around the house
Sometimes, working a new sport, a trip to the gym, or even a walk or two into your weekly routine isn't possible, so what then?
Getting more active can start at home, with a few simple tasks that'll get those steps in without you ever having to leave the house. All of those dreaded household chores it turns out are actually a great way for you to get more active, so next time you're running the vacuum around the living room or giving the spare room a bit of a tidy, remember you're actually burning calories.
10. Check out the National Fitness Day Activity Finder
National Fitness Day is a yearly initiative from UK Active to encourage participation in people of all ages to get more active and live a healthier lifestyle.
Every year they partner with hundreds of sports facilities, gyms, sports clubs, schools and sports and fitness personalities to bring you a range of activities up and down the country to take part in.
Check out their Activity Finder where they add new activities every day, search for events going on in your local area and book yourself onto something fun and get involved.
Playfinder was founded on the idea of making it easier for everyone to play sport and get active. National Fitness Day goes hand in hand with that mission.
So, if you've been inspired over the summer to make sport a part of your routine and get more active, check out Playfinder.com or download our app today, to get started!